click below to link:
Therapeutic Massage Helps With... Chronic Pain, Headaches, Lower Back Pain, Upper Back, Neck Pain, Fibromyalgia, Stress & Tension Relief, Migraines, TMJ, Relaxation & Calmness, Depression, Circulation, Accident Rehabilitation, Post-Op Rehab, High Blood Pressure, Range of Motion, Immune System, Insomnia, Sports Injury, Poor Posture, Allergies, Anxiety, Carpal Tunnel Syndrome, Joint Injury, Autism,
Elderly/Geriatric People, Homebound, Pediatric Clients, Sciatica, Oncology Patients, Stretching for Flexibility.
Massage Benefits Section


Natural Products for Personal Care, the Home, and More - Mountainside-Diversified.Com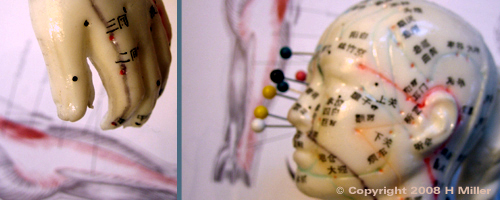 Massage Abstracts / Studies
Index of Scientific Studies proving the efficacy
and effectiveness of Therapeutic Massage
as a healing modality.
Massage Debunkers Debunked!
Some skeptics attempt to debunk
Massage Therapy as a effective treatment.
Here such arguments are addressed.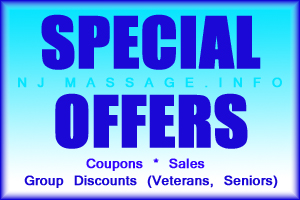 Massage Gift Certificates
Massage Gift Certificates For On Site Sessions: Show You Care With A Gift That Brings Healing and Relaxation To NJ and NYC Homes and Offices
Massage Gift Certificates are a thoughtful way of showing your family, friends, loved ones, as well as co-workers or office staff, that you really care. A memorable gift, well suited for both those very close to us as well as our acquaintances, Gift Certificates for Massage are appropriate for nearly everyone on your holiday shopping list.
Massage Therapy is wonderful. But how many times have you received a gift certificate only to find there's never time to make it to the Day Spa it's registered at? Our Gift Certificate does not expire, and we travel to the gift recipient's home or office. This is the perfect gift, conveying caring and joy as much as the best of splendidly exquisite holiday gifts or interesting and fun birthday presents. This truly is the perfect gift; we're not just saying this because we're Massage Therapists ourselves!
Mountainside On Site Massage Therapy is Massage Therapist-owned-and-operated, and was one of the first mobile massage providers in New Jersey, and continues to offer incomparable service to clients in the New York / New Jersey Metro Area and well beyond. We have Certified Prenatal and Perinatal (postnatal) Massage Therapists available upon request. We also have CPMT (Certified Pediatric Massage Therapists) available as well.
On-site Massage Therapy Gift Certificates are a novel and creative means of rewarding certain members of your staff for exceptional job performance and can also serve as interesting and fun raffle prizes for your community or business function or event. A great birthday, anniversary, graduation, engagement, wedding, or Get-Well-Soon gift, Massage Gift Certificates are always well received!

Gift Gertificates For Table Massage with Oil, as well as Fully Clothed Oil-less Chair Massage At Home Are Both Available.
Gift Certificates For Massage - Options Available & How It Works
When a Gift Certificate for Massage is redeemed, we travel to your location and set up either a portable massage table, a Shiatsu mat, or a portable massage chair. We can provide Therapeutic Massage nearly anywhere. We are a reputable company, having been around for years longer than most other Mobile Massage companies, one of the first in the area with a web presence. And that is important, because you don't want to buy Gift Certificates for Massage Therapy only to find that the company you've purchased from has disappeared! We are established and reputable, with clients throughout Northern and Central New Jersey and New York City. A Massage Gift Card from us is reliable; we won't be gone in six months like so many of the web sites out there!
Mountainside On-Site Massage Therapy's Mobile Massage Gift Certificates are available for massage with one therapist, as well as 4-Hand Massage with two therapists (working on one client simultaneously), and Couples Massage (Side-By-Side Massage Therapy). Massage Gift Certificates are available in increments of one, five, and ten hour sessions, ready to purchase at our secure web server.
If you are interested in a Gift Certificate For Massage On Site with a different number of sessions than those offered, please call, e-mail, text us, or use the form on the Contact Us page. We will certainly accommodate your custom Mobile Massage Gift Certificate requests.
Gift Certificates for Massage may be purchased simply and securely at our affiliated online shop, Mountainside-Diversified.Com. Please click HERE, or on the links below-left, to link the the store for pricing and details. All major credit cards are accepted through PayPal, as well as e-Checks. Please Note: Personal checks, as well as money orders, must clear two days before the appointment date.
Gift Certificates For Massage: Custom Artwork & Design, with Personalized Message
Gift Certificates For Massage may be sent to you (or the recipient of the gift) via e-mail, or you may opt for us to mail an attractive personalized Massage Gift Certificate to you or the person whom the gift is for, at no extra charge. We offer a choice of our own tasteful, creative, custom-created Massage Gift Certificate designs to choose from; just ask!
The designs range from reserved and formal to fun and friendly. Each design has been commissioned with a professional artist, and so our Mobile Spa Gift Certificates are really second to none, in terms of presentation and appearance. These do not look like something printed from a free Massage Gift Certificate template website someone found online at the last hour! We use your choice of Premium Stock paper at no extra charge.
(You must note where you'd like the Massage Gift Certificate sent, as well whether you'd like to have a custom Massage Gift Certificate created, what personalized text you'd like the Gift Certificate to read, and where it should be mailed, when checking out, or you may e-mail, or call us, with the details.) When selecting the Massage Gift Certificate at our online store, you will be asked to choose a Massage Gift Certificate design.
Mountainside On-Site Massage Therapy also offers Massage Gift Cards. You choose the value of the card ($20 minimum) Great for Grab Bags, Gift Bags, Secret Santam and other instances where a full session is more of a gift than is situationally appropriate or expected. (Massage Gift Cards are also good toward the purchase of ANY product at Mountainside-Diversified.Com, including Organic, All Natural Hair Care, Health & Beauty Products, Skin Care, Pet Products, and more.) (Click to Visit Massage Gift Card page)

Massage Gift Certificate Coupons
Massage Gift Certificate Coupons are also available from Mountainside On Site Massage Therapy. Coupons for On Site Massage Gift Certificate purchases may be found on our web site, Facebook page, RSS feeds, Twitter posts, and elsewhere online. Coupons vary in savings. Rarer, harder-to-find coupons for the purchase of Gift Certificates for Massage often confer even greater savings, and such rare coupons are often only usable to purchase Massage Gift Certificates for a short time before the coupon code expires. We know our clients like to save when they can, so for those who search carefully, savings may be greater.
(All Massage Gift Certificates, once purchased, are TRANSFERRABLE, GOOD UNTIL USED, and DO *NOT* EXPIRE unlike many would-be competitors whose own Massage Gift Certificates for Mobile Massage in New Jersey and New York City expire after only one year and may not be transferred to another person!)
Massage Gift Certificates may also be purchased by phone or e-mail. Please call 877 480 8038 to speak real-time with a person. To e-mail, send an e-mail to [email protected] or CLICK HERE to send an e-mail now.
Gift Certificates, not specifically for Therapeutic Massage, but which do include that option, are also available that are good for any of the wide range of products and services offered on Mountainside-Diversified.Com, which includes Mountainside Massage Therapy On-Site services, as well as a lot of other interesting All Natural, Certified Organic beauty care, hair care, and health products. This gives the gift recipient a choice of on site therapeutic massage, or a range of natural, healthy products.
Gift Certificates For Massage Choice of On Site Massage Services Available: (Please click below or on links at left for more detailed information about each service)
At Home Massage: Massage at your location, right in your own house or apartment! Nothing could be more convenient. Relax and Unwind Right Where You Are.�
At-Home 4-Hand Massage: Two massage therapists work on you at once in the comfort of your own home. A great deal, and a session that is incomparable.
At-Home Couples Massage: Simultaneous massage for two, side-by-side, at your location. Romantic, fun, and exciting, At Home Couples Massage in NJ or NYC are a great way to spend an evening with your significant other, or even a friend or family member.

Hotel Massage: 4-Hand Massage, Couples Massage, 'Massage For the Vacationing Family™', & sessions with only ONE massage therapist offered at your New Jersey or New York City hotel room. Schedule with little advance notice!
Events & Parties: Mobile Massage Therapy for your party, event, or other social or business function. 4-Hand Massage or 2 client simultaneous massage
Corporate Clients: On-site Massage therapy. Great for office parties, destressing during intensive round-the-clock projects. 4-Hand Massage or 2 client simultaneous massage
At-Home Massage 4 Kids/Mobile Kids Spa Parties: Helps children de-stress from schoolwork, sports, and all the other daily stresses of just being a kid! Yes; even our kids have daily stress to deal with!
Sports Massage/Athletic Training: As an adjunct to traditional strength and endurance training, as well as other forms of athletic sports training, including weightlifting, our Mobile Massage Therapists travel to you, when and where you need us most.
Chronic Pain Management: Massage therapy has been clinically proven to help patients deal with chronic pain.
Massage Facelifts/Facial Massage: Unlike a conventional facelift, a 'massage facelift' actually tones and rejuvenates your skin and facial muscles.
Prenatal/Postnatal Massage 4 Moms: Mobile Massage for prenatal/postnatal women. 4-Hand massage, as well as traditional one therapist massage, also availabe.
Please click on the '@ Contact Us' button at bottom-left to access our inquiry form, or use the button at the top of this page. Feel free to also call us at 877 480 8038 for more information or to book an appointment.
Cash, PayPal, CashApp, GooglePay, Credit Cards, and Gift Certificates accepted. Insurance plans accepted: County / Municipal Health Care Plans (NJ), Independent Health Flex Fit, Preferred Care, No-Fault with Authorization
Note: We offer *strictly* therapeutic massage therapy. We do *NOT* offer as€nsual u'massage', in any form.